PALIN: Well, first, we are friends with Israel and I don't think that we should second guess the measures that Israel has to take to defend themselves and for their security.
GIBSON: So if we wouldn't second guess it and they decided they needed to do it because Iran was an existential threat, we would cooperative or agree with that.
PALIN: I don't think we can second guess what Israel has to do to secure its nation.
GIBSON: So if it felt necessary, if it felt the need to defend itself by taking out Iranian nuclear facilities, that would be all right.
PALIN: We cannot second guess the steps that Israel has to take to defend itself.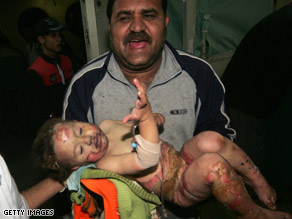 Segun barackobama.com:
Ensure a Strong U.S.-Israel Partnership: Barack Obama and Joe Biden strongly support the U.S.-Israel relationship, believe that our first and incontrovertible commitment in the Middle East must be to the security of Israel, America's strongest ally in the Middle East. They support this closeness, stating that that the United States would never distance itself from Israel.
Support Israel's Right to Self Defense: During the July 2006 Lebanon war, Barack Obama stood up strongly for Israel's right to defend itself from Hezbollah raids and rocket attacks, cosponsoring a Senate resolution against Iran and Syria's involvement in the war, and insisting that Israel should not be pressured into a ceasefire that did not deal with the threat of Hezbollah missiles. He and Joe Biden believe strongly in Israel's right to protect its citizens.
Support Foreign Assistance to Israel: Barack Obama and Joe Biden have consistently supported foreign assistance to Israel. They defend and support the annual foreign aid package that involves both military and economic assistance to Israel and have advocated increased foreign aid budgets to ensure that these funding priorities are met. They have called for continuing U.S. cooperation with Israel in the development of missile defense systems.
</H3>
Les advierto que el video esta fuerte... no, no es gore, es realidad, fea realidad.
http://muslimtv.magnify.net/video/IS...VILIANS-CHILDR
y junto con el video en hazmeelchingadofavor.com:
Estas im?genes valen mas que mil palabras, en toda guerra las víctimas son siempre la poblaci?n civil. Pero en esta guerra de David y Goliath el gobierno de Israel en verdad a cruzado la linea y ha generado opiniones negativas en amplios sectores de la opinion mundial. Les dejo esta traducci?n de un audio interceptado a unos soldados israelíes donde fue muerta una ni?a de 13 a?os.
Torre de vigilancia-. Es una ni?a peque?a que huye de la zona hacia el este.
Centro de Operaciones-. ¿Estamos hablando de una ni?a menor a 10 a?os?
Torre de vigilancia-. Es una ni?a de alrededor de 10 a?os, se encuentra agazapada y esta muy asustada.
Capitan R (despues de la muerte de la ni?a)-.Cualquier cosa que se mueva en la zona debe de ser eliminado, aun si se trata de un ni?o de 3 a?os, necesita ser eliminado.
Can we recosider about the whole israel issue?
Hasta ahorita barack obama se ha mantenido muy calladito con respecto a esto, y espero que sea porque el tambien ve la injusticia y este preparando algo.